sábado, 26 de mayo de 2012
Publicado por

Patricia Berdún
en 18:34
1 comentario:

viernes, 6 de abril de 2012
Como todos los años en esta época, afloran nuestros sentimientos más profundos hacia la Semana Santa y sus diferentes maneras de celebración. La Semana Santa, como su propio nombre indica, es una fiesta religiosa, lo cual levanta pasiones tanto en un lado como en otro.
Yo no soy creyente, pero hay cosas que a veces se llevan dentro. Cada uno sabrá por qué. Yo sé por qué lo llevo yo. Pero me parece absurdo tener que andar justificándome todos los años. ¿A tí no te gusta? Me parece maravilloso, pero a mí sí. ¿Es que todo el mundo que sale en la Ofrenda del día del Pilar en Zaragoza es creyente? No, pero la Pilarica es la Pilarica. ¿Todos los que salen a hacer la Ofrenda a la Virgen del Remedio de Alicante son creyentes? Ni mucho menos, pero cada uno sabe por qué sale o deja de salir.
Yo llevo toda la vida viendo procesiones, de hecho nací en Semana Santa. Preguntadle a mi madre cómo le daba yo al bombo antes de salir de él. Mi madre lleva toda la vida viendo procesiones. ¿Por qué? Porque mi abuelo fue hermano fundador de una cofradía y salía tocando el tambor. Lo hemos mamao desde pequeños y eso se tiene que notar. Que lo podíamos haber aborrecido, claro que sí, pero no ha sido el caso.
Pero no me pongáis de santurrona. Ni dejo de comer carne, ni me echo a llorar cuando veo desfilar los pasos, odio las saetas con toda mi alma, se me revuelve el estómago cada vez que alguien le grita guapa a una Virgen, y la Semana Santa andaluza me resbala. Sobretodo cuando hay elementos como el que comentó este vídeo que subí hace unos años:
Pero bueno, que indeseables hay en todas partes, no es porque sea del sur. De hecho yo ahora vivo en Alicante, si eso se considera sur, y salgo a ver procesiones. Hay cosas que no me gustan (donde esté un bombo que se quiten todas las cornetas), pero es algo que me gusta hacer.
Viernes Santo. A las 12 sale la Cofradía de las Siete Palabras de la Iglesia de San Cayetano (C/ Manifestación) y todos vamos a verla, mi madre, mi hermano, mi padre, mis tías, mi abuelo, y seguramente nos encontremos con mis primos en algún punto. Mi abuelo me dice por qué tocan así y no tocan asá, se enfada porque alguien no lleva el calzado que debiera, y de vez en cuando alguna anécdota (como cuando mi tío se fue a poner su capirote y no reparó en que estaban los palillos dentro).
Entre parada y parada del Via Crucis, mi hermano, mi padre y casi siempre mi madre hacemos corrillo y comentamos la jugada. Mi padre entona Jesucristo Superstar según el momento, o con voz de madre de Brian dice "¡Más alto!", o hace comentarios acerca de los tocados de los soldados romanos de los pasos y demás chistes (Ave César - Pasa que está abierto).
La última vez que pasé la Semana Santa en Zaragoza fué así, pero nunca va a volver a ser así. Nadie me va a volver a contar anécdotas de la cofradía, y nadie me va a volver a contar los mismos chistes todos los años.
No pido comprensión, ni respeto. Sólo quiero decir que, mientras todos vosotros os quejáis de que todos los años tenéis que aguantar la misma mierda, yo firmaría ahora mismo por volver a vivir la Semana Santa de todos los años.
Publicado por

Patricia Berdún
en 12:00
No hay comentarios:

martes, 10 de enero de 2012
It's the first time I write about the books I read, and curiously 2011 has been the year with less reading-activity since I started reading for pleasure again.
But here I go.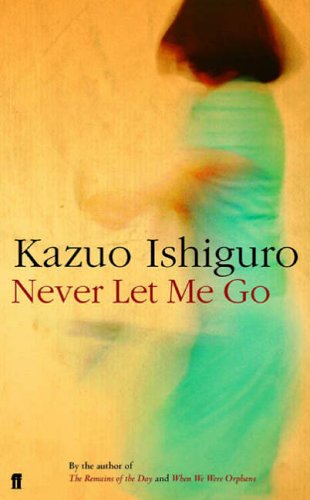 Kazuo Ishiguro's Never Let Me Go

I watched the trailer for the film (I must say, this happens to me very often) and I got very interested in it. And I liked the book, though I should say I found it veeeery slow.
I want to think that it is necessary for the story, the passing of time mixed with the inevitable fate of the children... it kepps them and you, waiting.

The film, by the way, it's awful. It's a good portrait of the story, but it's like a bad summary of the book.


Kathryn Stockett's The Help

I heard about this book from my University colleagues (this happens to me too) and I started to read it almost immediately. And it totally got me, I couldn't stop. I love the story and the different voices in it. Read it, please.

The film is great too.


H. P. Lovecraft's The Call of Cthulhu

Years and years talking about Cthulhu and making jokes about it, and I hadn't read anything actually. So I did. And I plan to read more.

Neil Gaiman's
Neverwhere
Gaiman is the guilty of my renewed love for reading. I bought a book for my boyfriend and I read it at Stansted Airport because I missed the flight and had to wait to the next one. And since then (January 2008) I've been reading books and graphic novels almost non-stop.
This book in particular is good. I remember myself being in London this summer, and suddenly I saw a rat running through the tracks o the undergroud. And that made me smile. I am that weird.
That's all I have read in 2011. I do not deserve your love.
And for those of you who have GoodReads,
add me
if you want.
tagged: currently-reading
tagged: currently-reading
tagged: currently-reading
tagged: currently-reading
tagged: currently-reading
Publicado por

Patricia Berdún
en 15:32
No hay comentarios:

Etiquetas: amazon kindle, books, criadas y señoras, cthulhu, english, hp lovecraft, kathryn stockett, kazuo ishiguro, libros, neil gaiman, never let me go, neverwhere, nunca me abandones, the help